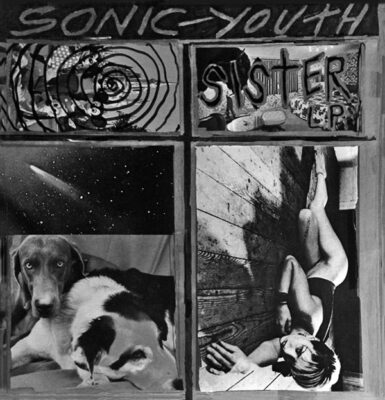 A1: SCHIZOPHRENIA (4:37); A2: (I GOT A) CATHOLIC BLOCK (3:28); A3: BEAUTY LIES IN THE EYE (2:12); A4: STEREO SANCTITY (3:46); A5: PIPELINE/KILL TIME (4:31).
B1: TUFF GNARL (3:12); B2: PACIFIC COAST HIGHWAY (4:25); B3: HOT WIRE MY HEART (3:20); B4: COTTON CROWN (5:04); B5: WHITE CROSS (2:39).
CATEGORY: ART-ROCK | DURATION: 38 MINUTES
Sonic Youth close out their holy trinity with Sister, the tectonic wipe-out of EVOL elevated to its terminal iteration. Sister presents a perfectly synthesized aesthetic of pop, rock, noise, art and poetics, setting up a final decade of aspirant avant-rock before the inexorable creative collapse of almost all popular music. After this Sonic Youth released the somewhat disappointing Daydream Nation, a rock double album, then sidestepped into the major label shadows.
THIS BOOK IS DEDICATED TO THE MEMORY OF ROBERT YOUNG (1964-2014)
"ÆTERNUM VORTICE LACRIMARUM SOMNIAT"