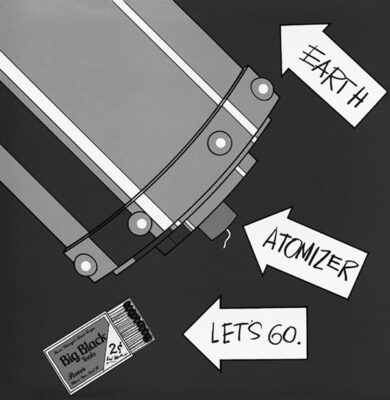 A1: JORDAN MINNESOTA (3:20); A2: PASSING COMPLEXION (3:04); A3: BIG MONEY (2:29); A4: KEROSENE (6:05); A5: BAD HOUSES (3:09).
B1: FISTS OF LOVE (4:21); B2: STINKING DRUNK (3:27); B3: BAZOOKA JOE (4:43); B4: STRANGE THINGS (3.54); B5: CABLES (3:09).
CATEGORY: HARDCORE ROCK | DURATION: 38 MINUTES
Marking the emergence of Steve Albini – a man whose influence in late 80s and early 90s music is rivalled only by that of Brian Eno in the 70s – Big Black's Atomizer came as an explosive eruption of nihilistic noise, fusing hardcore with electro-industrial elements to create one of the most disruptive sonic attacks to that date. Words about sexual abuse, addiction, violence and self-immolation are set to a massive wall of lacerating, inter-clashing guitars and a remorseless drum machine, making Atomizer a landmark album in the lineage of all uncompromising and confrontational music.
THIS BOOK IS DEDICATED TO THE MEMORY OF ROBERT YOUNG (1964-2014)
"ÆTERNUM VORTICE LACRIMARUM SOMNIAT"