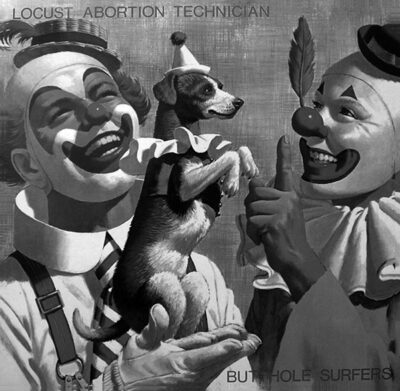 LOCUST ABORTION TECHNICIAN
A1: SWEAT LOAF (6:05); A2: GRAVEYARD (2:27); A3: PITTSBURG TO LEBANON (2:29); A4: WEBER (0:33); A5: HAY (1:49); A6: HUMAN CANNONBALL (3:52).
B1: U.S.S.A (2:14); B2: THE O-MEN (3:28); B3: KUNTZ (2:25); B4: GRAVEYARD (2:45); B5: 22 GOING ON 23 (4:28).
CATEGORY: ACID PUNK | DURATION: 34 MINUTES
A continuous trip of psychedelic noise-rock riffs, hallucinatory tape collages and sick drug-twisted humour which at its peak achieves a true level of delirium, a highly desirable state for those to seek to affirm life's abject futility by howling and babbling at the night. Locust Abortion Technician is a record of Butthole Surfers at the outer edges of experimental acid punk, and yet another album which marks 1986 as a crucial year for cutting-edge music of all persuasions.
THIS BOOK IS DEDICATED TO THE MEMORY OF ROBERT YOUNG (1964-2014)
"ÆTERNUM VORTICE LACRIMARUM SOMNIAT"