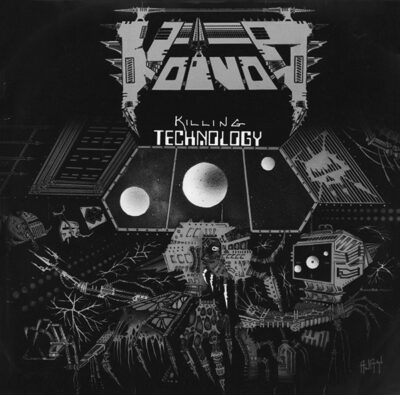 A1: KILLING TECHNOLOGY (7:33); A2: OVERREACTION (4:45); A3: TORNADO (6:02).
B1: FORGOTTEN IN SPACE (6:10); B2: RAVENOUS MEDICINE (4:23); B3: ORDER OF THE BLACKGUARDS (4:28); B4: THIS IS NOT AN EXERCISE (6:18).
CATEGORY: METAL HARDCORE | DURATION: 40 MINUTES
The most notable band since Blue Öyster Cult to create and sustain their own dark mythos as an evolving thread, Canada's Voivod convey the memory of punk through the mechanisms of hardcore and metal with classic "anti-rock" guitar machinations on Killing Technology, an album which marks the climax of their initial period. After this Voivod moved more towards a kind of progressive metal, but Killing Technology captures them forever at their most crazed peak.
THIS BOOK IS DEDICATED TO THE MEMORY OF ROBERT YOUNG (1964-2014)
"ÆTERNUM VORTICE LACRIMARUM SOMNIAT"