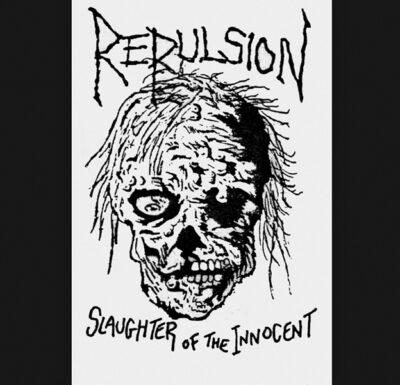 SLAUGHTER OF THE INNOCENT
A1: THE STENCH OF BURNING DEATH (1:36); A2: EATEN ALIVE (1:39); A3: ACID BATH (1:32); A4: SLAUGHTER OF THE INNOCENT (1:34); A5: DECOMPOSED (1:23); A6: RADIATION SICKNESS (2:05); A7: SPLATTERED CADAVERS (1:26); A8: FESTERING BOILS (1:53); A9: PESTILENT DECAY (1:05).
B1: CREMATORIUM (1:30); B2: DRIVEN TO INSANITY (1:41); B3: SIX FEET UNDER (1:12); B4: BODILY DISMEMBERMENT (1:47); B5: REPULSION (1:46); B6: THE LURKING FEAR (1:10); B7: BLACK BREATH (2:18); B8: MAGGOTS IN YOUR COFFIN (1:47); B9: HORRIFIED (2:06).
CATEGORY: METAL | DURATION: 29 MINUTES
In a year when hardcore and extreme metal made their most provocative developments yet, Repulsion's cassette-only release Slaughter Of The Innocent was among the most radical of all. Influenced by such bands as Discharge, Celtic Frost, Master, and Slayer, Repulsion created a deranged high-speed deluge of eighteen tracks, mostly well under two minutes in length, delivered in a mutant hardcore style with blasting drums, deranged twin-guitar riffing and soloing, and lyrics based on trash horror movie culture. Bodily disintegration and the living dead are central to the album's image core, which conjures a night-world populated by flesh-destroying disease, serial killers and coprophagic zombies. This use of splatter imagery with abbreviated ripping, grinding, and pounding metal music stands at the intersection of death and grindcore, two underground cults then in their formative stages.
THIS BOOK IS DEDICATED TO THE MEMORY OF ROBERT YOUNG (1964-2014)
"ÆTERNUM VORTICE LACRIMARUM SOMNIAT"