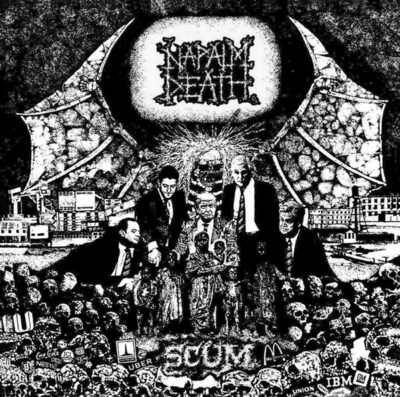 A1: MULTINATIONAL CORPORATIONS (1:02); A2: INSTINCT OF SURVIVAL (2:29); A3: THE KILL (0:24); A4: SCUM (2:40); A5: CAUGHT IN A DREAM (1:47); A6: POLLUTED MINDS (1:01).
B1: SACRIFICED (1:08); B2: SIEGE OF POWER (4:03); B3: CONTROL (1:31); B4: BORN ON YOUR KNEES (1:50); B5: HUMAN GARBAGE (1:34); B6: YOU SUFFER (0:01).
CATEGORY: HARDCORE | DURATION: 20 MINUTES
Napalm Death started as a hardcore anarcho-punk band, and the 1986 recording session Scum (Part One) is hardcore punk accelerated to its feasible final limits and destruction in a molten metal shitstorm. Ever-diminishing song durations and grating near-abstract noise mark this terminal expedition to the music's evaporation-point, an event symbolised by the climactic track of the session, "You Suffer", which lasts for scarcely one second. After this fractional death knell the band duly fell apart, unable to proceed any further without producing only silence. And yet… within a year Napalm Death had risen from the ashes – with only drummer Mick Harris remaining from its original configuration – and miraculously utilised Scum (Part One) as a starting-point for a new musical assault tactic which would soon become known as grindcore, first explored and recorded in its formative moments as a flip-side to Scum (Part One), both sessions being released as a single, ground-breaking 1987 album.
THIS BOOK IS DEDICATED TO THE MEMORY OF ROBERT YOUNG (1964-2014)
"ÆTERNUM VORTICE LACRIMARUM SOMNIAT"