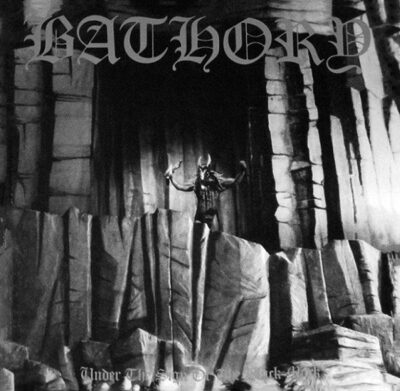 UNDER THE SIGN OF THE BLACK MARK
A1: NOCTURNAL OBEISANCE (1:28); A2: MASSACRE (2:38); A3: WOMAN OF DARK DESIRES (4:06); A4: CALL FROM THE GRAVE (4:53); A5: EQUIMANTHORN.
B1: ENTER THE ETERNAL FIRE (6:57); B2: CHARIOTS OF FIRE (2:46); B3: 13 CANDLES (5:17); B4: OF DOOM… (3:44).
CATEGORY: METAL | DURATION: 37 MINUTES
Bathory's singular vision of metal as a demonic night ritual of sick and aberrant riff-cycles reaches fever-pitch on Under The Sign Of The Black Mark, but the formula is also infected by an increased awareness of rock sensibility – mainman Quorthon spits and curses behind a shield-wall of infernal electric noise and unleashes maniacal guitar solos, while offering occasional glimpses of song structure. Bathory next turned to a new model inspired by Viking lore, leaving Under The Sign Of The Black Mark as an aural codex informing all black Satanic metal to come.
THIS BOOK IS DEDICATED TO THE MEMORY OF ROBERT YOUNG (1964-2014)
"ÆTERNUM VORTICE LACRIMARUM SOMNIAT"