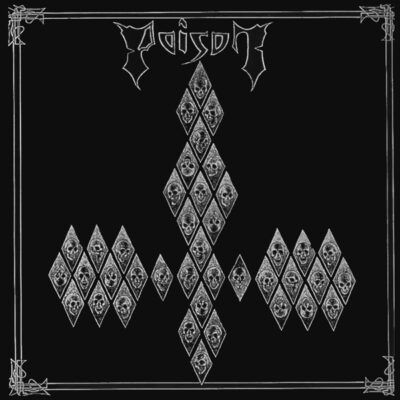 A1: SPHINX (8:24); A2: YOG-SOTHOTH (7:14).
B1: SLAVES (OF THE CRUCIFIX) (9:39); B2: ALIVE (UNDEAD) (7:41).
CATEGORY: METAL | DURATION: 33 MINUTES
Not to be confused with the daft American hair-metal band, Poison was an extreme metal outfit from Germany whose 33-minute cassette-only demo Into The Abyss, recorded very late in 1986, notably differed from the output of its peers who by then were nearly all veering close to the "thrash metal" quagmire. Into The Abyss contains four lengthy and progressive tracks marked by massive guitar riffs and bestial vocals, varying tempos (echoes of prime Metallica and Slayer, and even Black Sabbath, resonate in the slower mega-heavy sections), and blasting beats. Poison disbanded the following year and never released an official album, but Into The Abyss was a necromantic onslaught which ensures them a brief but enduring legacy in the annals of the metallic occult.
THIS BOOK IS DEDICATED TO THE MEMORY OF ROBERT YOUNG (1964-2014)
"ÆTERNUM VORTICE LACRIMARUM SOMNIAT"