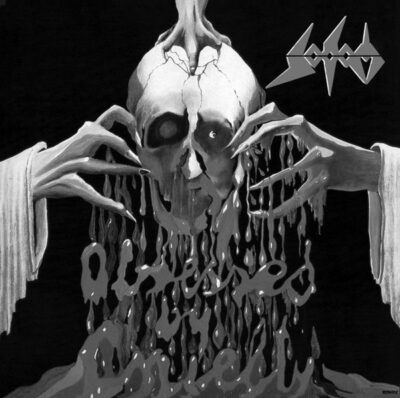 A1: INTRO (THE REBIRTH…) (1:53); A2: DEATHLIKE SILENCE (5:06); A3: BRANDISH THE SCEPTRE (2:56); A4: PROSELYTISM REAL (3:31); A5: EQUINOX (3:32).
B1: OBSESSED BY CRUELTY (5:47); B2: FALL OF MAJESTY TOWN (4:01); B3: NUCTEMERON (3:00); B4: PRETENDERS TO THE THRONE (2:39); B5: WITCHHAMMER (2:02); B6: VOLCANIC SLUT (3:21).
CATEGORY: METAL | DURATION: 38 MINUTES
Recorded at the same Berlin studio not long after Celtic Frost's To Mega Therion, Sodom's first full album Obsessed By Cruelty continued their exploration of evil and barbaric metal. Rejected by the band's record label for its production values and out-of-control music (it was re-recorded in 1986), this album stands among the key ancient scriptures of black European metal; sadly, it was also Sodom's last such work before they turned towards more a commercial thrash style.
THIS BOOK IS DEDICATED TO THE MEMORY OF ROBERT YOUNG (1964-2014)
"ÆTERNUM VORTICE LACRIMARUM SOMNIAT"