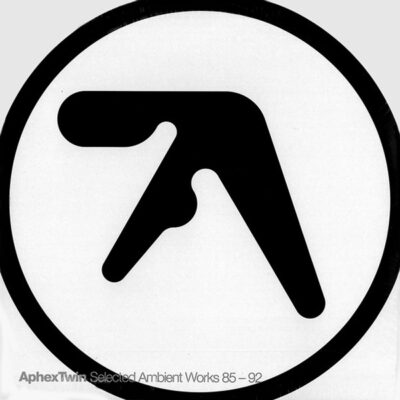 SELECTED AMBIENT WORKS 85-92
A1: XTAL (4:51); A2: THA (9:01); A3: PULSEWIDTH (3:47).
B1: AGEISPOLIS (5:21); B2: i (1:13); B3: GREEN CALX (6:02); B4: HELIOSPHAN (4:51).
C1: WE ARE THE MUSIC MAKERS (7:42); C2: SCHOTTKEY 7th PATH (5:07); C3: PTOLEMY (7:12).
D1: HEDPHELYM (6:02); D2: DELPHIUM (5:36); D3: ACTIUM (7:35).
CATEGORY: ELECTRONIC | DURATION: 74 MINUTES
In 1985, the year in which techno was invented, Aphex Twin was a schoolboy living in the south of England but asserts that at least one track on Selected Ambient Works, the brief "i" (B2), dates from that year. The bulk in final form was most likely recorded in the late 80s through 1992, a period when techno-derived acid house music swept through the UK like a drug-propelled plague. Too beats-heavy to be truly ambient, yet too ethereal to be club techno, Selected Ambient Works is more simply a brilliant evolutionary landmark in the history of electronic music, a foundational recording of electronics for the post-dance age (the 90s).
THIS BOOK IS DEDICATED TO THE MEMORY OF ROBERT YOUNG (1964-2014)
"ÆTERNUM VORTICE LACRIMARUM SOMNIAT"