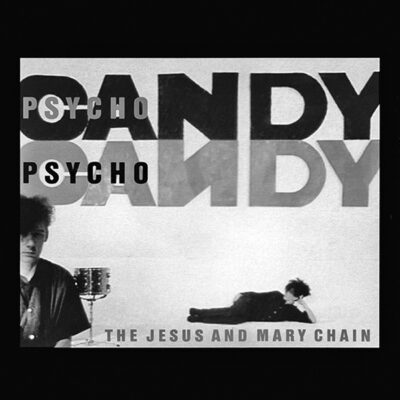 A1: JUST LIKE HONEY (3:00); A2: THE LIVING END (2:14); A3: TASTE THE FLOOR (2:54); A4: THE HARDEST WALK (2:36); A5: CUT DEAD (2:45); A6: IN A HOLE (3:01); A7: TASTE OF CINDY (1:39).
B1: NEVER UNDERSTAND (2:58); B2: INSIDE ME (3:08); B3: SOWING SEEDS (2:47); B4: MY LITTLE UNDERGROUND (2:30); B5: YOU TRIP ME UP (2:22); B6: SOMETHING'S WRONG (4:00); B7: IT'S SO HARD (2:35).
CATEGORY: NOISE-POP | DURATION: 38 MINUTES
In a world where popular music grew ever more extreme at its ground-breaking boundaries, it fell to Scotland's Jesus And Mary Chain to drag pop itself into a new age of sonic disruption. On their inaugural manifesto Psychocandy, beautiful and evocative melodies are often set to a backdrop of remorseless electric guitar noise, while lyrics conjure a twilight world where vaguely psychotic females assert sexual domination through cruelty and indifference. Finally, the world of Psychocandy is signalled through an overarching aesthetic which reinterprets 60s rock and roll glamour for the minimalist modern eye, all making this foundational noise-pop album one of the most impactful statements of its decade or any other.
THIS BOOK IS DEDICATED TO THE MEMORY OF ROBERT YOUNG (1964-2014)
"ÆTERNUM VORTICE LACRIMARUM SOMNIAT"