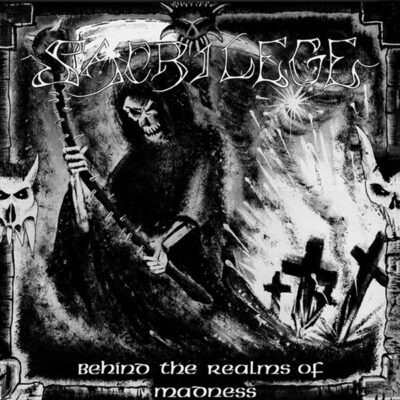 BEHIND THE REALMS OF MADNESS
A1: LIFELINE (4:19); A2: SHADOW FROM MORDOR (5:00); A3: AT DEATH'S DOOR (5:14).
B1: A VIOLATION OF SOMETHING SACRED (4:20); B2: THE CLOSING IRONY (4:23); B3: OUT OF SIGHT, OUT OF MIND (3:52).
CATEGORY: ANARCHO-METAL | DURATION: 26 MINUTES
The premium English punk-metal fusion album, a rabid, 26-minute hybrid assault of American-style "thrash" and UK "crust", with savage guitars, relentless crashing beats and shouted female punk vocals. The words are mainly unintelligible, but seem to approach political concerns through a fantasy perspective, something which may have been noted by fellow blasters Bolt Thrower. With a striking cover design showing Death in a graveyard decorated with monstrous demonic skulls, Behind The Realms Of Madness is a total trip into multiple forms of midnight mania.
THIS BOOK IS DEDICATED TO THE MEMORY OF ROBERT YOUNG (1964-2014)
"ÆTERNUM VORTICE LACRIMARUM SOMNIAT"