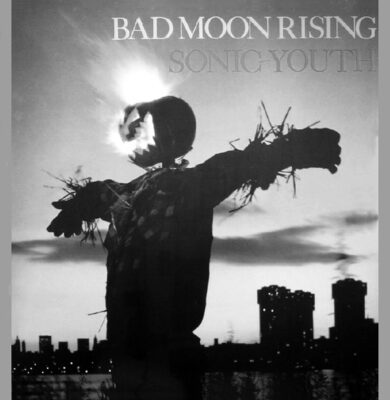 A1: INTRO (1:11); A2: BRAVE MEN RUN (IN MY FAMILY) (3:36); A3: SOCIETY IS A HOLE (5:59); A4: I LOVE HER ALL THE TIME (7:30).
B1: GHOST BITCH (5:41); B2: I'M INSANE (4:07); B3: JUSTICE IS MIGHT (4:22); B4: DEATH VALLEY '69 (5:08).
CATEGORY: ART-ROCK | DURATION: 38 MINUTES
From 1984 to 1987, Sonic Youth were the most expansive art-rock band in the world. Bad Moon Rising is the first of three classic albums recorded by the band during this period, driven by a creative nucleus of Kim Gordon (bass, voice) and twin guitarists Lee Ranaldo and Thurston Moore (both formerly with Glenn Branca). Sonic Youth's music was marked by long passages of sculptured sound with crescendos of electric noise, vividly brought to life by a pulp poetry previously glimpsed only in sacred texts such as Ed Sanders' The Family. Bad Moon Rising reveals this burgeoning synthesis in process throughout, before ending with one of the decade's essential singles "Death Valley 69", a cacophonous Manson-inspired deluge co-created with former Teenage Jesus singer Lydia Lunch.
THIS BOOK IS DEDICATED TO THE MEMORY OF ROBERT YOUNG (1964-2014)
"ÆTERNUM VORTICE LACRIMARUM SOMNIAT"