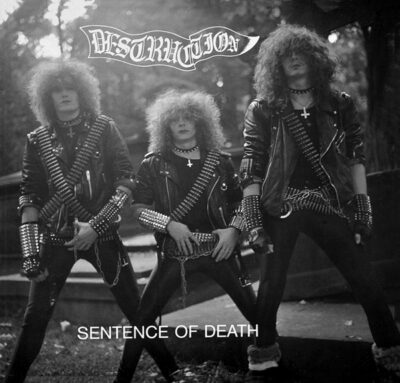 A1: TOTAL DESASTER (5:26); A2: BLACK MASS (3:17).
B1: MAD BUTCHER (3:27); B2: SATAN'S VENGEANCE (3:52); B3: DEVIL'S SOLDIERS (3:12).
CATEGORY: METAL | DURATION: 20 MINUTES
Storm-troopers in heavy metal drag. Destruction's Sentence Of Death is a set of rabid riffing and retching in the name of Satan, and another metal landmark from Germany. More conventional in sound than fellow countrymen Sodom, Destruction nonetheless live up to their name with this relentless rampage – like Motörhead or Venom at their most brutal, Sentence Of Death is war music, music for igniting firestorms and trampling corpses under iron-heeled boots. Destruction remain one of the few bands – another was Metallica – who produced notable works of "speed metal" before it collapsed into an interminable sea of thrash.
THIS BOOK IS DEDICATED TO THE MEMORY OF ROBERT YOUNG (1964-2014)
"ÆTERNUM VORTICE LACRIMARUM SOMNIAT"