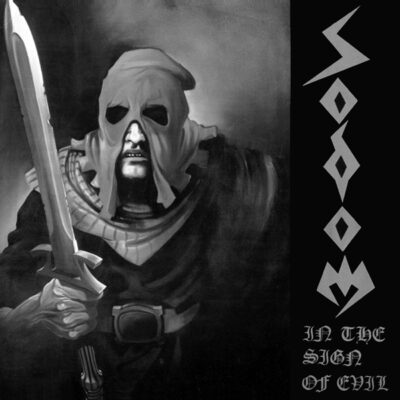 A1: OUTBREAK OF EVIL (4:48); A2: SEPULCHRAL VOICE (4:31).
B1: BLASPHEMER (3:06); B2: WITCHING METAL (3:13); B3: BURST COMMAND TIL WAR (3:36).
CATEGORY: METAL | DURATION: 19 MINUTES
The new extreme metal bands erupted like barbarians from the underworld flaunting a lethal combination of speed, violence and blasphemy, harbingers of a truly subterranean movement which not only took the sonic attack of punk to new extremes of noise and aggression, but replaced its lyrical concerns of pointless polemic against society and government with something far more frightening and disturbing to many grown-ups – an obsession with the occult, Satanism, devil-worship and, later, an aesthetic of gore, splatter and corporeal destruction derived from slasher movies and even pathological text-books. Despite its cartoonish intellectual expression, this Satanic metal would eventually inspire genuine fear and loathing in many societies, especially those most infested with simple-minded church-goers. German band Sodom were among the primary instigators, and their 19-minute In The Sign Of Evil remains a raw sensory assault, a black blast of evil intent expressed as music.
THIS BOOK IS DEDICATED TO THE MEMORY OF ROBERT YOUNG (1964-2014)
"ÆTERNUM VORTICE LACRIMARUM SOMNIAT"