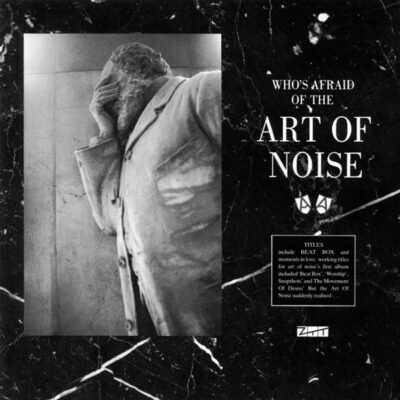 A1: A TIME FOR FEAR (WHO'S AFRAID OF) (4:43); A2: BEAT BOX (DIVERSION ONE) (8:33); A3: SNAPSHOT (1:00); A4: CLOSE (TO THE EDIT) (5:37).
B1: WHO'S AFRAID (OF THE ART OF NOISE) (4:22); B2: MOMENTS IN LOVE (10:17); B3: MEMENTO (2:14); B4: HOW TO KILL (2:44); B5: REALIZATION (1:41).
CATEGORY: TECHNO-POP | DURATION: 41 MINUTES
The apex release from ZTT, an English record label inspired by Italian Futurism in name, design and content. (The) Art of Noise was a faceless project in creating totally synthetic music, using the most cutting-edge sampling technology of the time; even the human voices on the album are artificial. As a manifesto, Who's Afraid Of The presents a complex of sound, image and words which place it beyond the realm of mere synth-pop; it stands as a kind of sublime machine delirium, an advanced experimental techno-pop provoked by the studio and producer as artist, while clearly revealing electronic music's bifurcate post-pop future in the interconnected ambient/dance sphere.
THIS BOOK IS DEDICATED TO THE MEMORY OF ROBERT YOUNG (1964-2014)
"ÆTERNUM VORTICE LACRIMARUM SOMNIAT"