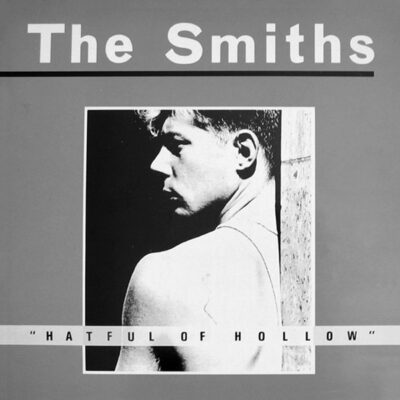 A1: WILLIAM, IT WAS REALLY NOTHING (2:09); A2: WHAT DIFFERENCE DOES IT MAKE? (3:42); A3: THESE THINGS TAKE TIME (2:33); A4: THIS CHARMING MAN (2:43); A5: HOW SOON IS NOW? (6:43); A6: HANDSOME DEVIL (2:46); A7: HAND IN GLOVE (3:14); A8: STILL ILL (3:54).
B1: HEAVEN KNOWS I'M MISERABLE NOW (3:34); B2: THIS NIGHT HAS OPENED MY EYES (3:40); B3: YOU'VE GOT EVERYTHING NOW (4:18); B4: ACCEPT YOURSELF (4:02); B5: GIRL AFRAID (2:45); B6: BACK TO THE OLD HOUSE (3:02); B7: REEL AROUND THE FOUNTAIN (5:51); B8: PLEASE PLEASE PLEASE LET ME GET WHAT I WANT (1:50).
CATEGORY: POP-ROCK | DURATION: 56 MINUTES
England had guitar pop too, and The Smiths were its new gods. Created in Manchester by non-conformist Morrissey and guitar maniac Johnny Marr, The Smiths presented kitchen-sink vignettes set to an original and timeless music style. Hatful Of Hollow is an officially-released 16-track compilation which documents the band's extraordinary inaugural period, including album tracks, single sides and alternative takes. The Smiths' music changed somewhat after this; they released a couple more albums and more singles before falling apart, never to be recombined.
THIS BOOK IS DEDICATED TO THE MEMORY OF ROBERT YOUNG (1964-2014)
"ÆTERNUM VORTICE LACRIMARUM SOMNIAT"