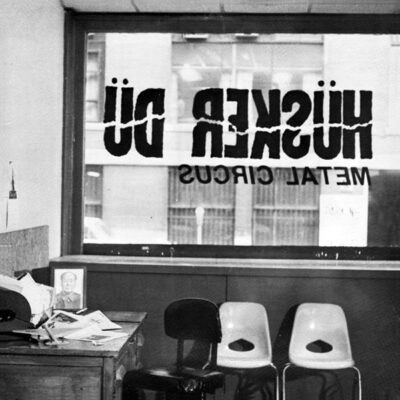 A1: REAL WORLD (2:27); A2: DEADLY SKIES (1:50); A3: IT'S NOT FUNNY ANYMORE (2:12); A4: FIRST OF THE LAT CALLS (2:48).
B1: LIFELINE (2:19); B2: DIANE (4:42); B3: OUT ON A LIMB (2:39).
CATEGORY: PUNK-POP | DURATION: 19 MINUTES
With Metal Circus, their most perfectly formed recording, Hüsker Dü moved away from an early hardcore sound to present a new kind of punk-pop marked by the brutal delivery and distortions of its sunken melodies. Hüsker Dü continued to refine their punk-pop style, finally presenting it for mass consumption on 1985's Flip Your Wig, but that album is merely a pale and bloated shadow of Metal Circus. A number of other bands took up the punk-pop template, some with huge commercial success, but few worthy of mention.
THIS BOOK IS DEDICATED TO THE MEMORY OF ROBERT YOUNG (1964-2014)
"ÆTERNUM VORTICE LACRIMARUM SOMNIAT"