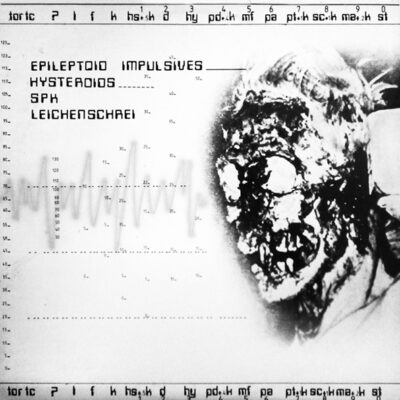 A1: GENETIC TRANSMISSION (3:17); A2: POST-MORTEM (2:24); A3: DESOLATION (1:18); A4: NAPALM (TERMINAL PATIENT) (2:39); A5: CRY FROM THE SANATORIUM (2:26); A6: BABY BLUE EYES (2:38); A7: ISRAEL (2:46); A8: INTERNAL BLEEDING (1:46); A9: CHAMBER MUSIC (3:26).
B1: DESPAIR (4:45); B2: THE AGONY OF THE PLASMA (3:03); B3: DAY OF PIGS (4:18); B4: WARS OF ISLAM (4:31); B5: MALADIA EUROPA (THE EUROPEAN SICKNESS) (3:50).
CATEGORY: INDUSTRIAL | DURATION: 44 MINUTES
Although Australian music/noise unit SPK (Sozialistisches Patienten Kollektiv) were no doubt inspired by the earlier recordings of Throbbing Gristle – especially "Hamburger Lady" from D.O.A. (1978) – in creating Leichenschrei, SPK's album achieves a sonic cohesion never quite attained by the English group, whose conceptual brilliance was never fully matched by their music. Mixing electronics with metal percussion, discordant sound effects, weird chants and morbid spoken tracts, Leichenschrei offers a disturbing industrial-forensic music for morgues and mental hospitals, evoking themes of physical and psychiatric dissolution, venereal disease, terminal trauma, radical surgery, religious mania and other manifestations of overwhelming sickness in the modern age, foreboding an imminent apocalypse of screaming corpses.
THIS BOOK IS DEDICATED TO THE MEMORY OF ROBERT YOUNG (1964-2014)
"ÆTERNUM VORTICE LACRIMARUM SOMNIAT"