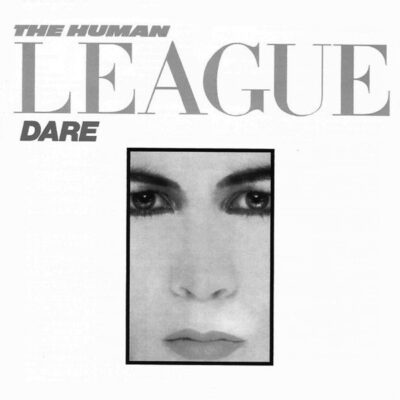 A1: THE THINGS THAT DREAMS ARE MADE OF (4:12); A2: OPEN YOUR HEART (3:54); A3: THE SOUND OF THE CROWD (4:02); A4: DARKNESS (3:57); A5: DO OR DIE (5:22).
B1: GET CARTER (1:01); B2: I AM THE LAW (4:08); B3: SECONDS (4:56); B4: LOVE ACTION (I BELIEVE IN LOVE) (4:57); B5: DON'T YOU WANT ME (3:56).
CATEGORY: SYNTH-POP | DURATION: 40 MINUTES
One of England's first all-electronic pop groups, The Human League emerged in 1978 with the sinister 7-inch single "Being Boiled"/"Circus Of Death" on Scottish label Fast Product, who also released notable singles by The Scars and The Mekons. After signing to Virgin and making two mediocre albums, The Human League split in two, with its musicians forming a new project, Heaven 17, and supposedly leaving vocalist Phil Oakey to rot. But while Heaven 17 made two good singles then faded to nothing, Oakey rebuilt The Human League from the ground up, starting with two Sheffield shop-girls, and created Dare, the crowning opus of the synth-pop movement. Comprising four smash hit singles and six other tracks of equal clarity, Dare presents as the only usable remnant from a brief period when synth-pop and glam-pop dominated the UK charts.
THIS BOOK IS DEDICATED TO THE MEMORY OF ROBERT YOUNG (1964-2014)
"ÆTERNUM VORTICE LACRIMARUM SOMNIAT"