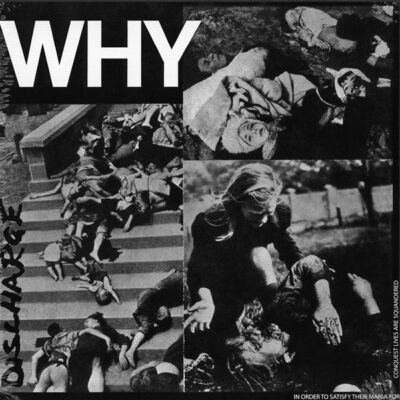 1: VISIONS OF WAR (1:41); A2: DOES THIS SYSTEM WORK (1:17); A3: A LOOK AT TOMORROW (1:57); A4: WHY (1:11); A5: MAIMED AND SLAUGHTERED (1:06).
B1: MANIA FOR CONQUEST (1:16); B2: AIN'T NO FEEBLE BASTARD (1:30); B3: IS THIS TO BE (1:31); B4: MASSACRE OF INNOCENTS (AIR ATTACK) (1:23); B5: WHY (1:49).
CATEGORY: ANARCHO-PUNK | DURATION: 15 MINUTES
Punk rock didn't die, it just took a few years for the music to find a form that truly reflected its intellectual content. Converging on the same point as Motörhead but from a differing cultural angle, 77 copyists Discharge reinvented themselves in 1980 as purveyors of blistering hardcore anarcho-punk. The first album using this new formation and approach was Why, a 15-minute, 10-track, 45rpm explosion of rage-shouts, extreme electric guitar contortions and a remorseless rhythmic attack which became known as D-Beat. From its emblematic anti-war anarcho-collage cover inwards, Why is the manifesto which set D-Beat on course to become a global phenomenon among underground punk and metal cults.
THIS BOOK IS DEDICATED TO THE MEMORY OF ROBERT YOUNG (1964-2014)
"ÆTERNUM VORTICE LACRIMARUM SOMNIAT"