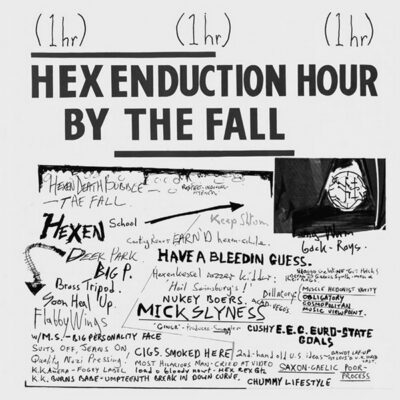 A1: THE CLASSICAL (5:15); A2: JAWBONE AND THE AIR-RIFLE (3:42); A3: HIP PRIEST (7:45); A4: FORTRESS / DEER PARK (6:42); A5: MERE PSEUD MAG ED. (2:48); A6: WINTER (HOSTEL-MAXI) (4:31).
B1: WINTER 2 (4:30); B2: JUST STEP S'WAYS (3:20); B3: WHO MAKES THE NAZIS? (4:30); B4: ICELAND (6:41); B5: AND THIS DAY (10:23).
CATEGORY: ANTI-ROCK | DURATION: 60 MINUTES
Pushing the vinyl format to its limits, Hex Enduction Hour presents The Fall at their absolute peak. Recorded partly in Iceland and partly in a derelict English cinema with a two-drummer line-up, Hex Enduction Hour is a maelstrom of words and images set to a radical anti-rock music, an unleashed aural curse that can never be eradicated.
THIS BOOK IS DEDICATED TO THE MEMORY OF ROBERT YOUNG (1964-2014)
"ÆTERNUM VORTICE LACRIMARUM SOMNIAT"