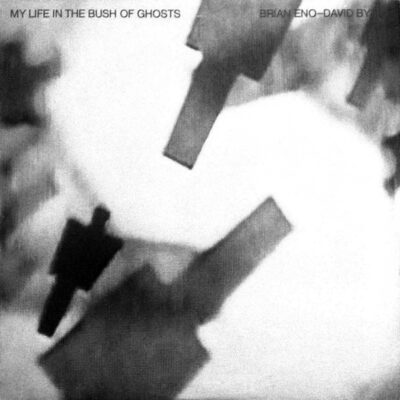 MY LIFE IN THE BUSH OF GHOSTS
A1: AMERICA IS WAITING (3:36); A2: MEA CULPA (3:35); A3: REGIMENT (3:56); A4: HELP ME SOMEBODY (4:18); A5: THE JEZEBEL SPIRIT (4:55).
B1: QU'RAN (3:46); B2: MOONLIGHT IN GLORY (4:19); B3: THE CARRIER (3:30); B4: A SECRET LIFE (2:30); B5: COME WITH US (2:38); B6: MOUNTAIN OF NEEDLES (2:35).
CATEGORY: FUNK-ROCK | DURATION: 40 MINUTES
Eno's engagement with ethnic music ­– which he says began when he encountered Fela Kuti's Afro-beat in 1974 – reached fruition in the 1979-80 period with recordings made in collaboration first with David Byrne and Byrne's band Talking Heads, and second with avant-garde composer Jon Hassell. Like Material during the same time period, Eno and Byrne utilize a primitive form of sampling by incorporating found voice recordings but, in My Life In The Bush Of Ghosts, they become lead vocal tracks around which the musicians construct a new kind of psychedelic funk-rock which, by the end of the album, assumes an experimental tribal resonance.
THIS BOOK IS DEDICATED TO THE MEMORY OF ROBERT YOUNG (1964-2014)
"ÆTERNUM VORTICE LACRIMARUM SOMNIAT"