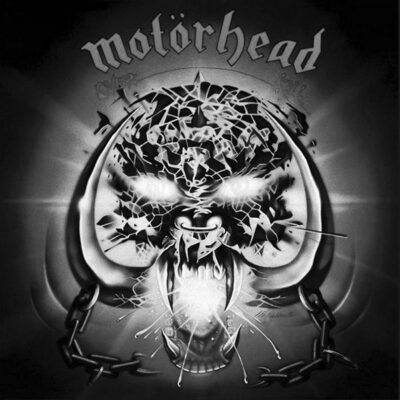 A1: OVERKILL (5:13); A2: STAY CLEAN (2:41); A3: (I WON'T) PAY YOUR PRICE (2:55); A4: I'LL BE YOUR SISTER (2:52); A5: CAPRICORN (4:08).
B1: NO CLASS (2:40); B2: DAMAGE CASE (3:01); B3: TEAR YA DOWN (2:40); B4: METROPOLIS (3:35); B5: LIMB FROM LIMB (4:56).
CATEGORY: METAL | DURATION: 35 MINUTES
In 1979, extreme English music for the socially alienated fell largely into two equally absurd camps, cartoon punk or "heavy metal", a domestic invention played by bands like Iron Maiden and Judas Priest. Bestriding this morass came Motörhead, led by ex-Hawkwind bass guitarist Lemmy Kilmister, assisted in their prime configuration by guitarist "Fast" Eddie Clarke and drummer "Philthy Animal" Taylor, the power trio taken to its final and nuclear extreme. Poised between the two camps, Motörhead took the best elements from both and left all the stupid shit behind, forging on Overkill and its sequel album Bomber the inception of a metal music which would be taken up, evolved, and eventually surpass all its peers in pure streamlined ferocity and transgression. From its stunning cover art inwards, Overkill is the crucible of the metal revolution.
THIS BOOK IS DEDICATED TO THE MEMORY OF ROBERT YOUNG (1964-2014)
"ÆTERNUM VORTICE LACRIMARUM SOMNIAT"