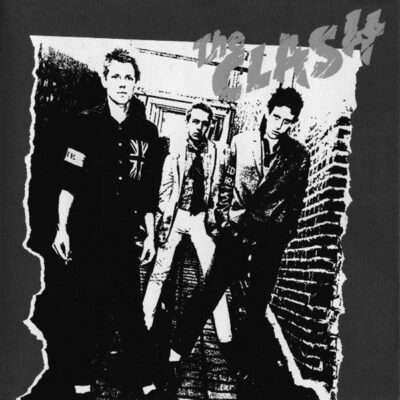 A1: JANIE JONES (2:05); A2: REMOTE CONTROL (3:00); A3: I'M SO BORED WITH THE U.S.A. (2:24); A4: WHITE RIOT (1:55); A5: HATE & WAR (2:04); A6: WHAT'S MY NAME (1:40); A7: DENY (3:03); A8: LONDON'S BURNING (2:10).
B1: CAREER OPPORTUNITIES (1:51); B2: CHEAT (2:06); B3: PROTEX BLUE (1:46); B4: POLICE & THIEVES (6:00); B5: 48 HOURS (1:34); B6: GARAGE LAND (3:13).
CATEGORY: PUNK ROCK | DURATION: 35 MINUTES
"Punk" in its political posture and Ramones-inspired tempo, The Clash was the first album by The Clash, a band rooted in glam and garage but able to seamlessly assume the morphology of the moment. The Clash burns with transgressive rage in track after slogan-driven track, its velocity only briefly tempered by a version of Junior Murvin's "Police And Thieves" which confirms that The Clash were the only white band ever who could credibly transpose Jamaican roots music into their own aesthetic. But even as The Clash was released The Clash were in metamorphosis, about to flaunt their true form and scope.
THIS BOOK IS DEDICATED TO THE MEMORY OF ROBERT YOUNG (1964-2014)
"ÆTERNUM VORTICE LACRIMARUM SOMNIAT"