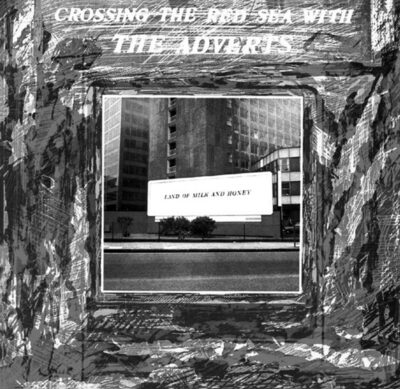 CROSSING THE RED SEA WITH
A1: ONE CHORD WONDERS (2:49); A2: BORED TEENAGERS (1:44); A3: NEW CHURCH (2:26); A4: ON THE ROOF (3:01); A5: NEWSBOYS (3:14); A6: BOMBSITE BOY (3:45).
B1: NO TIME TO BE 21 (2:36); B2: SAFETY IN NUMBERS (3:16); B3: DROWNING MEN (2:18); B4: ON WHEELS (3:17); B5: GREAT BRITISH MISTAKE (3:49); B6: GARY GILMORE'S EYES (2:21).
CATEGORY: PUNK ROCK | DURATION: 35 MINUTES
The first truly immersive punk-music album. Superseding the revved-up post-glam musical template of their contemporaries in England's mythical, fashion-based "punk" movement, The Adverts produced a claustrophobic wreckage that surges and collapses in nightmarish swathes of voided electric sound. Opening with 'One Chord Wonders" and closing with "Gary Gilmore's Eyes" – two crucial 7-inch singles – Crossing The Red Sea With augments this sonic fabric with singer T.V. Smith's dark visions of burnings, explodings, killings, ravings, drownings and other fractured eruptions of violence from a disintegrating society, whole cities razed by concatenations of spontaneous teenage combustion. A seminal recording in the lineage of music for outsiders.
THIS BOOK IS DEDICATED TO THE MEMORY OF ROBERT YOUNG (1964-2014)
"ÆTERNUM VORTICE LACRIMARUM SOMNIAT"