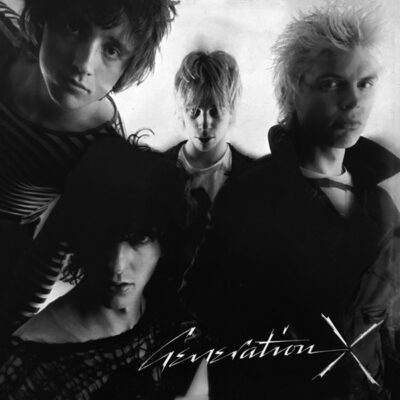 A1: FROM THE HEART (2:14); A2: ONE HUNDRED PUNKS (3:10); A3: LISTEN (3:30); A4: READY STEADY GO (3:03); A5: KLEENEX (2:25); A6: PROMISES PROMISES (5:30).
B1: DAY BY DAY (2:04); B2: THE INVISIBLE MAN (3:00); B3: KISS ME DEADLY (4:24); B4: TOO PERSONAL (2:20); B5: YOUTH YOUTH YOUTH (6:15).
CATEGORY: POST-GLAM | DURATION: 38 MINUTES
Glam rock accelerated to its ultimate incarnation, Generation X were the loudest band on the 77 circuit. Masterminded by Tony James, fronted by the androgynous Billy Idol and detonated by teenage guitar hero Derwood, they were the perfect rock and roll attack battalion. Generation X captures the essence of Generation X – even if the band's beautiful excesses are only unleashed on the final track – and in doing so remains one of the most essential albums of its period.
THIS BOOK IS DEDICATED TO THE MEMORY OF ROBERT YOUNG (1964-2014)
"ÆTERNUM VORTICE LACRIMARUM SOMNIAT"