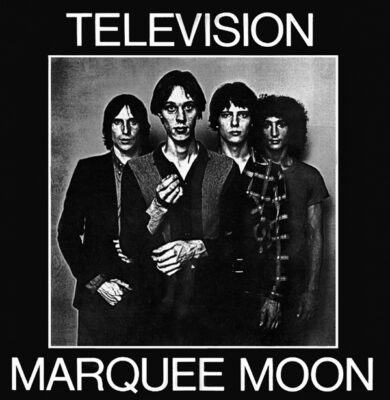 A1: SEE NO EVIL (3:56); A2: VENUS (3:48); A3: FRICTION (4:43); A4: MARQUEE MOON (9:58).
B1: ELEVATION (5:08); B2: GUIDING LIGHT (5:36); B3: PROVE IT (5:04); B4: TORN CURTAIN (7:00).
CATEGORY: ROCK NOUVEAU | DURATION: 45 MINUTES
New York's place at the cutting edge of new music in the mid-70s was affirmed in a series of crucial sonic documents; after Horses came Marquee Moon, the last classic album released by Elektra. Television presented a new, anti-rock sound through intertwining lead guitars and leader Tom Verlaine's cryptic wordplay, forming an aural spell to mesmerize the listener. After rejecting demos produced by Brian Eno for Island, Verlaine chose engineer Andy Johns to help with production, reportedly based on his work on the last credible Rolling Stones album Goat's Head Soup. The result remains one of the most original debut records ever released.
THIS BOOK IS DEDICATED TO THE MEMORY OF ROBERT YOUNG (1964-2014)
"ÆTERNUM VORTICE LACRIMARUM SOMNIAT"