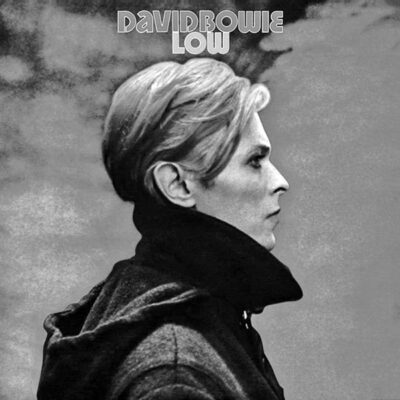 A1: SPEED OF LIFE (2:45); A2: BREAKING GLASS (1:42); A3: WHAT IN THE WORLD (2:20); A4: SOUND AND VISION (3:00); A5: ALWAYS CRASHING IN THE SAME CAR (3:26); A6: BE MY LIFE (2:55); A7: A NEW CAREER IN A NEW TOWN (2:50).
B1: WARSZAWA (6:17); B2: ART DECADE (3:43); B3: WEEPING WALL (3:25); B4: SUBTERRANEANS (5:37).
CATEGORY: AVANT-POP | DURATION: 38 MINUTES
Made in Berlin, this collision of the new music streams cultivated by David Bowie on Station To Station and by Brian Eno on Another Green World resulted in Bowie's most essential album. Divided between one side of fractured avant-pop and one side of electronic ambient pop, Low is a futuristic sound manifesto that was never surpassed, notwithstanding Bowie and Eno's attempt to replicate its formula on future collaborations. A measure of the album's brilliance can be gauged from Bowie's reported fear of it failing commercially, a fate accorded to many works which are so viciously ahead of their time.
THIS BOOK IS DEDICATED TO THE MEMORY OF ROBERT YOUNG (1964-2014)
"ÆTERNUM VORTICE LACRIMARUM SOMNIAT"