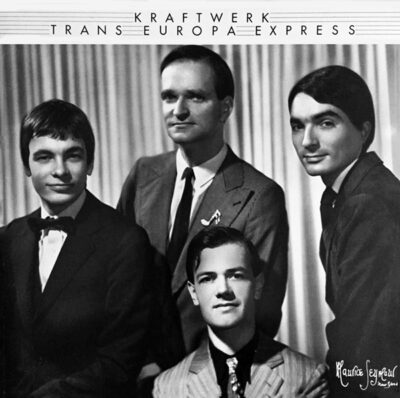 A1: EUROPA ENDLOS (9:35); A2: SPIEGELSAAL (7:50); A3: SCHAUFENSTERPUPPEN (6:10).
B1: TRANS EUROPA EXPRESS (6:40); B2: METALL AUF METALL (2:10); B3: ABZUG (4:42); B4: FRANZ SCHUBERT (4:25); B5: ENDLOS ENDLOS (0:45).
CATEGORY: SYNTH-POP | DURATION: 42 MINUTES
German electronic band Kraftwerk's metamorphosis from experimental to pop, which first took shape on their 1975 album Radio-Activität, achieved perfection with Trans Europa Express. Adding sequencers and a key vocal element to the synth-pop groundwork established by Cluster's Zuckerzeit, Kraftwerk not only crystallized a new musical movement but also created an indelible cultural imprint of Europe as the epicentre of existential ecstasy and sorrow, a hallucinatory fusion of ancient and modern symbolized by the "endless" train trip from city to city. A warning that in 1976, Germany – Düsseldorf and Berlin in particular – would birth some of popular music's most essential creations.
THIS BOOK IS DEDICATED TO THE MEMORY OF ROBERT YOUNG (1964-2014)
"ÆTERNUM VORTICE LACRIMARUM SOMNIAT"