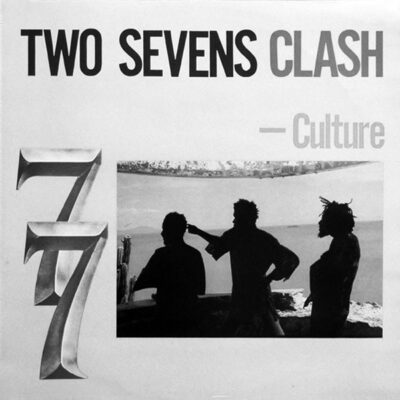 A1: CALLING RASTA FAR I (2:31); A2: I'M ALONE IN THE WILDERNESS (3:26); A3: PIRATE DAYS (2:53); A4: TWO SEVENS CLASH (3:30); A5: I'M NOT ASHAMED (4:06).
B1: GET READY TO RIDE THE LION TO ZION (3:30); B2: BLACK STARLINER MUST COME (2:43); B3: JAH PRETTY FACE (3:40); B4: SEE THEM A COME (3:25); B5: NATTY DREAD TAKING OVER (3:48).
CATEGORY: ROOTS REGGAE | DURATION: 33 MINUTES
Roots reggae in a rockers style from Joe Gibbs studio, a new sound propelled by Sly and Robbie from house band The Professionals. Released in 1977, when the two sevens clashed, Culture's debut album centred around an apocalyptic vision of divine retribution which inspired singer Joseph Hill to create this masterpiece of manners and stricture. Closing out the golden age of roots reggae in unsurpassable fashion, Two Sevens Clash stands as a towering pillar of musical wisdom in the age of armagideon.
THIS BOOK IS DEDICATED TO THE MEMORY OF ROBERT YOUNG (1964-2014)
"ÆTERNUM VORTICE LACRIMARUM SOMNIAT"