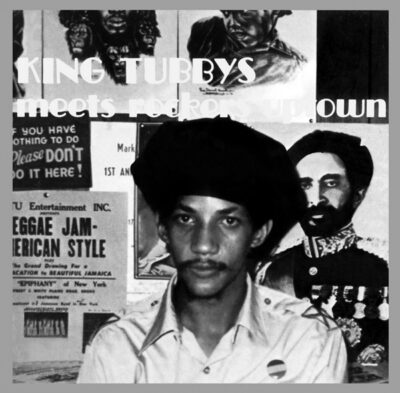 KING TUBBYS MEETS ROCKERS UPTOWN
A1: KEEP ON DUBBING (3:11); A2: STOP THEM JAH (2:52); A3: YOUNG GENERATION DUB (2:35); A4: EACH ONE DUB (2:55); A5: 555 DUB ST. (2:44); A6: BRACE'S TOWER DUB (2:53).
B1: KING TUBBY MEETS ROCKERS UPTOWN (2:34); B2: BRACE'S TOWER DUB No. 2 (2:58); B3: CORNER CREW DUB (3:07); B4: SKANKING DUB (2:44); B5: FROZEN DUB (2:54); B6: SATTA DUB (4:22).
CATEGORY: DUB REGGAE | DURATION: 31 MINUTES
Following the exploratory 1974 dub collaboration King Tubby Meets The Upsetter At The Grass Roots Of Dub, radical mixer King Tubby teamed up with A(u)gustus Pablo, master of the melodica, to create this seminal sequel. King Tubbys Meet Rockers Uptown features Jamaica's finest studio musicians in its twelve psychedelic soundscapes, confirming Tubby's status alongside Lee "Scratch" Perry at the pinnacle of dub experimentation.
THIS BOOK IS DEDICATED TO THE MEMORY OF ROBERT YOUNG (1964-2014)
"ÆTERNUM VORTICE LACRIMARUM SOMNIAT"