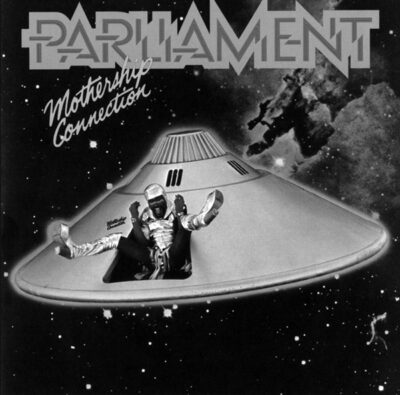 A1: P. FUNK (WANTS TO GET FUNKED UP) (7:42); A2: MOTHERSHIP CONNECTION (STAR CHILD) (6:14); A3: UNFUNKY UFO (4:24).
B1: SUPERGROOVALISTICPROSIFUNKSTICATION (5:01); B2: HANDCUFFS (4:01); B3: GIVE UP THE FUNK (TEAR THE ROOF OFF THE SUCKER) (5:45); B4: NIGHT OF THE THUMPASORUS PEOPLES (5:12).
CATEGORY: FUNK | DURATION: 38 MINUTES
By 1975 P-Funk was the last bastion of funk's dying domain, and Mothership Connection is P-Funk's last viable gasp. Sister band to Funkadelic, Parliament was the ultra-funk component of the P-Funk axis created by George Clinton, dedicated to taking the music to cosmic extremes. Featuring Bootsy Collins and other transients from James Brown world, Parliament were among the last to fall before the advent of a new, mutant strain of black dance music relegated the age of classic funk to history.
THIS BOOK IS DEDICATED TO THE MEMORY OF ROBERT YOUNG (1964-2014)
"ÆTERNUM VORTICE LACRIMARUM SOMNIAT"