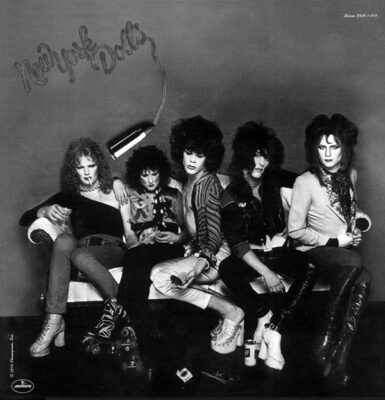 A1: PERSONALITY CRISIS (3:41); A2: LOOKING FOR A KISS (3:19); A3: VIETNAMESE BABY (3:38); A4: LONELY PLANET BOY (4:09); A5: FRANKENSTEIN (Orig.) (6:00).
B1: TRASH (3:08); B2: BAD GIRL (3:04); B3: SUBWAY TRAIN (4:21); B4: PILLS (2:48); B5: PRIVATE WORLD (3:39); B6: JET BOY (4:41).
CATEGORY: GLAM ROCK | DURATION: 42 MINUTES
The only credible American glam rock album, by the only credible American glam rock band. Led by guitarist Johnny Thunders, the androgynously-appointed Dolls harness the essence of classic 50s rock and roll and 60s pop then process it through a 70s blaze of New York street-level electric abandon. But New York Dolls is not just the final classic glam rock album; it stands as a landmark recording, forever the moment when glam rock seeded its own future, revealing how it could and soon would evolve into something just as exciting, but even more transgressive.
THIS BOOK IS DEDICATED TO THE MEMORY OF ROBERT YOUNG (1964-2014)
"ÆTERNUM VORTICE LACRIMARUM SOMNIAT"