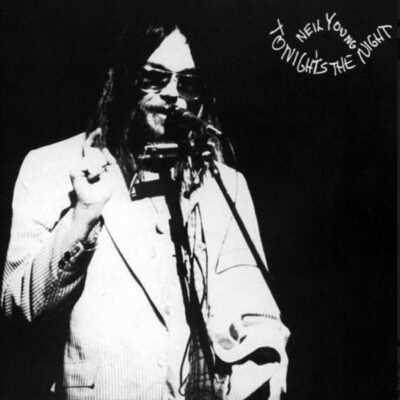 A1: TONIGHT'S THE NIGHT (4:39); A2: SPEAKIN' OUT (4:56); A3: WORLD ON A STRING (2:27); A4: BORROWED TUNE (3:26); A5: COME ON BABY LET'S GO DOWNTOWN (3:35); A6: MELLOW MY MIND (3:07).
B1: ROLL ANOTHER NUMBER (FOR THE ROAD) (3:02); B2: ALBUQUERQUE (4:02); B3: NEW MAMA (2:11); B4: LOOKOUT JOE (3:57); B5: TIRED EYES (4:38); B6: TONIGHT'S THE NIGHT (PART II) (4:52).
CATEGORY: POP-ROCK | DURATION: 45 MINUTES
Neil Young's rejection of stardom and the mainstream, which took root during the disastrous tour of early 1973, was made fully manifest on his first studio recording thereafter, Tonight's The Night. The spectres of two fallen comrades – both drug ODs – hang over the album; Crazy Horse guitarist Danny Whitten died on the eve of the fateful tour, while long-time roadie Bruce Berry died a few months later, just before the album was recorded in summer of 73. Tonight's The Night is accordingly bleak in mood, dealing with themes of drug addiction, violence and psychoses. Young's record label, Reprise, were so horrified by the album that they refused to release it until 1975; further confirmation, if any were needed, that Tonight's The Night is not only Neil Young's most challenging and interrogative opus, but one of the key works from rock's short-lived golden age.
THIS BOOK IS DEDICATED TO THE MEMORY OF ROBERT YOUNG (1964-2014)
"ÆTERNUM VORTICE LACRIMARUM SOMNIAT"