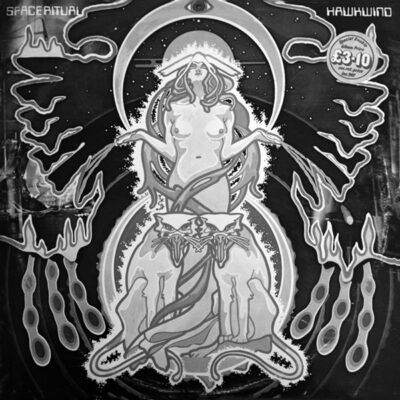 A1: EARTH CALLING (1:46); A2: BORN TO GO (9:56); A3: DOWN THROUGH THE NIGHT (6:16); A4: THE AWAKENING (1:32); A5: LORD OF LIGHT (7:21).
B1: THE BLACK CORRIDOR (1:51); B2: SPACE IS DEEP (8:13); B3: ELECTRONIC NO. 1 (2:26); B4: ORGONE ACCUMULATOR (9:59).
C1: UPSIDE DOWN (2:43); C2: 10 SECONDS OF FOREVER (2:05); C3: BRAINSTORM (9:20); C4: 7 BY 7 (6:13); C5: SONIC ATTACK (2:54).
D1: TIME WE LEFT THIS WORLD TODAY (5:47); D2: MASTER OF THE UNIVERSE (7:37); D3: WELCOME TO THE FUTURE (2:03); D4: YOU SHOULDN'T DO THAT (6:59); D5: SILVER MACHINE (4:39).
CATEGORY: ACID UNDERGROUND | DURATION: 101 MINUTES
Not space rock, not heavy rock or glam rock, the music created by Hawkwind and featured on the double live LP Space Ritual is a unique kind of driving, repetitive, transgressive rock and roll filtered through a sci-fi lens and augmented by electronics, drugs, light-shows and nude dancers. Space Ritual is Hawkwind's masterwork, immersing the listener in a sustained world of brilliantly brain-damaged total acid mayhem for Hell's Angels, fantasy bookworms and other English non-conformists. This is the ultimate extended version, including Hawkwind's classic hit single "Silver Machine".
THIS BOOK IS DEDICATED TO THE MEMORY OF ROBERT YOUNG (1964-2014)
"ÆTERNUM VORTICE LACRIMARUM SOMNIAT"