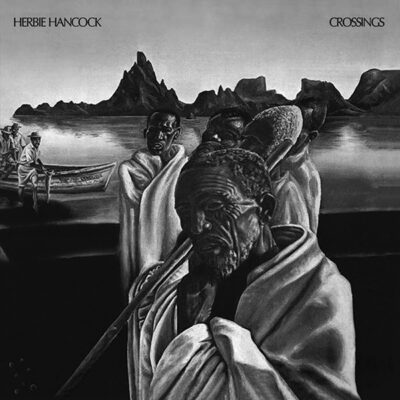 A1: SLEEPING GIANT (24:50).
B1: QUASAR (7:27); B2: WATER TORTURE (14:04).
CATEGORY: EXPERIMENTAL FUSION | DURATION: 46 MINUTES
Completing a holy trinity of experimental post-Miles units alongside Weather Report and Mahavishnu Orchestra, Herbie Hancock's Mwandishi project was an exploration of Afro-futurist fusions in funk and space-jazz of which Crossings is the second album release, notable for the first inclusion of synth-player Patrick Gleeson in the line-up. Crossings shows Hancock pushing at the boundaries of music in all directions, clearly guided by the spirit of Miles but free to forge an equally radical new sound spectrum.
THIS BOOK IS DEDICATED TO THE MEMORY OF ROBERT YOUNG (1964-2014)
"ÆTERNUM VORTICE LACRIMARUM SOMNIAT"