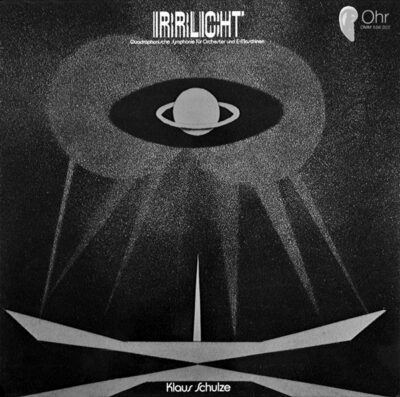 A1: 1. SATZ: EBENE (23:22); A2: 2. SATZ: GEWITTER (5:38).
B1: 3. SATZ: EXIL SILS MARIA (21:27).
CATEGORY: ELECTRONIC | DURATION: 50 MINUTES
Recorded a month before Tangerine Dream's Zeit, the first album from ex-Dream percussionist Schulze is a self-described symphony for e-machines – not synthesizers, but processed tape and electric organ combined with cathedral acoustics. Irrlicht largely avoids the cosmic sounds of Zeit in favour of a drone-based drift towards terminal ecstasy, more in the tradition of Terry Riley. With Zeit and Cluster's first two albums, Irrlicht resides at the apex of electronic music's foundational recordings for the pop age.
THIS BOOK IS DEDICATED TO THE MEMORY OF ROBERT YOUNG (1964-2014)
"ÆTERNUM VORTICE LACRIMARUM SOMNIAT"