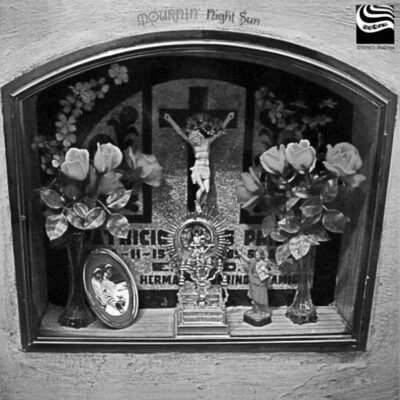 A1: PLASTIC SHOTGUN (2:34); A2: CRAZY WOMAN (4:22); A3: GOT A BONE OF MY OWN (7:45); A4: SLUSH PAN MAN (4:25).
B1: LIVING WITH THE DYING (5:31); B2: COME DOWN (5:48); B3: BLIND (4:24); B4: NIGHTMARE (3:16); B5: DON'T START FLYING (3:07).
CATEGORY: HEAVY ROCK | DURATION: 41 MINUTES
This wildly aberrant German album suggests music by a gang of escaped lunatics – heavy rock at the edge of sanity, fuelled by acid visions of flying demons and the ravings of the blind dead. Progressive twists, shifting rhythms and heavy phasing (Conny Plank, restless experimenter, was engineer) are just some of the factors driving Mournin' into the red, like some tentacled premonition of progressive metal. Even if the final track, "Don't Start Flying", goes too far by employing a jazz saxophone counterpoint, in the context of Mournin' this becomes a logical descent into terminal perversity. A tumultuous Teutonic postscript to the golden age of heavy rock.
THIS BOOK IS DEDICATED TO THE MEMORY OF ROBERT YOUNG (1964-2014)
"ÆTERNUM VORTICE LACRIMARUM SOMNIAT"