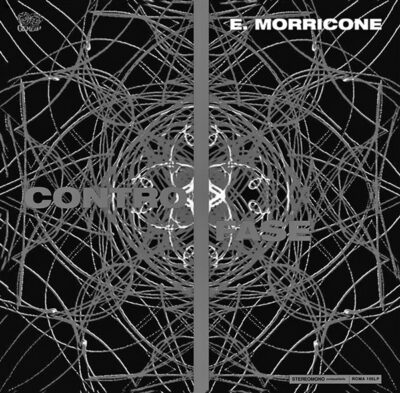 A1: CONTROFASE (5:53); A2: TEMPO (2:58); A3: SOLI (3:34); A4: COME SOMMERSI (3:59).
B1: CON FERMA OSTINAZIONE (3:05); B2: FOLLIA (4:07); B3: DEGENERAZIONE (3:05); B4: ECLISSI SECONDA (6:08).
CATEGORY: EXPERIMENTAL | DURATION: 33 MINUTES
Although justly acclaimed for his hundreds of brilliant film scores, Italian composer Ennio Morricone reserved his most challenging and startling work for experimental library music, of which Controfase represents the apex. This 33-minute album presents a dark and disturbing vortex of themes suggestive of psychological horror and mental disintegration, the soundtrack to an imaginary giallo movie. Violin, percussion and analog synthesiser sounds from Gruppo Di Improvvisazione Nuova Consonanza – a collective of avant-garde composers and musicians – are the principal tools used in Morricone's disturbing construct. Morricone and G.D.I.N.C. also composed for actual giallo films, a prime example being Gli Occhi Freddi Della Paura ("The Frigid Eyes Of Fear", 1971).
THIS BOOK IS DEDICATED TO THE MEMORY OF ROBERT YOUNG (1964-2014)
"ÆTERNUM VORTICE LACRIMARUM SOMNIAT"