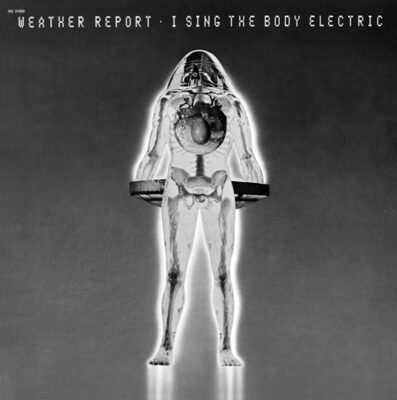 A1: UNKNOWN SOLDIER (7:57); A2: THE MOORS (4:49); A3: CRYSTAL (7:23); A4: SECOND SUNDAY IN AUGUST (4:04).
B1: a) VERTICAL INVADER; b) T.H.; c) DR. HONORIS CAUSA (10:45); B2: SURUCUCÚ (7:46); B3: DIRECTIONS (4:37).
CATEGORY: EXPERIMENTAL | DURATION: 47 MINUTES
One side of new studio recordings, and one side of music edited down from the live in Tokyo double LP Weather Report Live, released the same year in Japan only. Side A's studio tracks continue the themes of the ensemble's first album with augmented complexity and rhythmic drive, while in its compacted form the live music on Side B assumes a new, almost frightening intensity. I Sing The Body Electric remains Weather Report's darkest, most unnerving, and most essential album, bringing their brief experimental phase to a close before exploring a more rhythm-based music on future albums.
THIS BOOK IS DEDICATED TO THE MEMORY OF ROBERT YOUNG (1964-2014)
"ÆTERNUM VORTICE LACRIMARUM SOMNIAT"