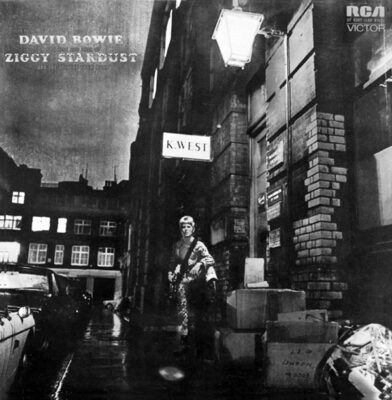 A1: FIVE YEARS (4:42); A2: SOUL LOVE (3:34); A3: MOONAGE DAYDREAM (4:40); A4: STARMAN (4:10); A5: IT AIN'T EASY (2:58).
B1: LADY STARDUST (3:22); B2: STAR (2:47); B3: HANG ON TO YOURSELF (2:40); B4: ZIGGY STARDUST (3:13); B5: SUFFRAGETTE CITY (3:25); B6: ROCK 'N' ROLL SUICIDE (2:58).
CATEGORY: GLAM ROCK | DURATION: 38 MINUTES
Bowie became the living embodiment of glam rock by assuming the alter ego Ziggy Stardust, and the music on this album backs it up. Ziggy Stardust remains the peak full-length recording of Bowie's extended first phase, and shows how rock music was already deviating from its classic forms into new movements, which in England were underpinned by radical fashion shifts. Ziggy Stardust joined Electric Warrior as one of the very few essential glam rock albums from a scene which revolved around the 7-inch single.
THIS BOOK IS DEDICATED TO THE MEMORY OF ROBERT YOUNG (1964-2014)
"ÆTERNUM VORTICE LACRIMARUM SOMNIAT"