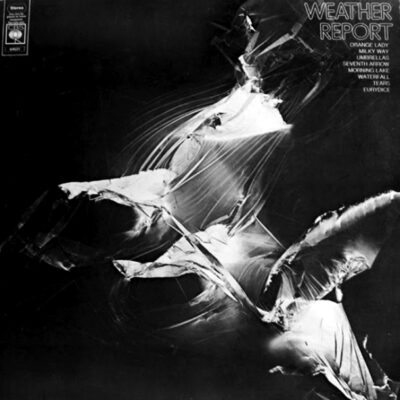 A1: MILKY WAY (2:30); A2: UMBRELLAS (3:24); A3: SEVENTH ARROW (5:20); A4: ORANGE LADY (8:40).
B1: MORNING LAKE (4:23); B2: WATERFALL (6:18); B3: TEARS (3:22); B4: EURYDICE (5:43).
CATEGORY: EXPERIMENTAL | DURATION: 40 MINUTES
Of all the post-jazz music units which emerged from Miles Davis' late 60s axis, Weather Report were the most sublime and mysterious. Formed around horn player Wayne Shorter and keyboardist Joe Zawinul – credited with composing tracks on both In A Silent Way and Bitches Brew – Weather Report presented an impressionistic, free-form music which transcended their roots and approached pure experimentalism. On Weather Report, recorded and released in 1971, Zawinul creates waves of electronic enigma, Shorter blows shadows, and founding bassist Miroslav Vitous spits fragments of futuristic funk. As the first manifesto of this new music, Weather Report remains among the key experimental works of the period.
THIS BOOK IS DEDICATED TO THE MEMORY OF ROBERT YOUNG (1964-2014)
"ÆTERNUM VORTICE LACRIMARUM SOMNIAT"