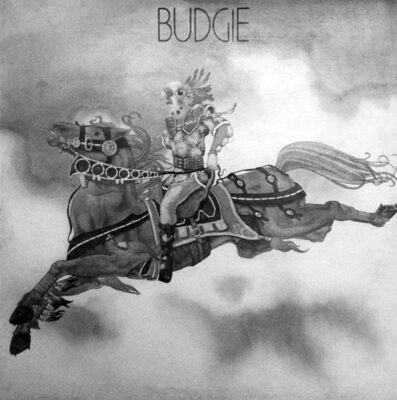 A1: GUTS (4:20); A2: EVERYTHING IN MY HEART (1:00); A3: THE AUTHOR (6:25); A4: NUDE DISINTEGRATING PARACHUTIST WOMAN (8:30).
B1: RAPE OF THE LOCKS (6:10); B2: ALL NIGHT PETROL (6:00); B3: YOU AND I (1:45); B4: HOMICIDAL SUICIDAL (6:30).
CATEGORY: HEAVY ROCK | DURATION: 41 MINUTES
Budgie's debut album opens with "Guts", boasting a riff worthy of Sabbath, before exploring a wide range of heavy rock permutations. Although the two short acoustic numbers (A2 and B3) are as strong as any of the songs here (as opposed to the filler used by certain other bands), Budgie is an exercise in prowling electric exhilaration above all else, and remains one of the few classic releases of British heavy rock. Budgie – they could have ruled the world, if only they chose a proper name.
THIS BOOK IS DEDICATED TO THE MEMORY OF ROBERT YOUNG (1964-2014)
"ÆTERNUM VORTICE LACRIMARUM SOMNIAT"