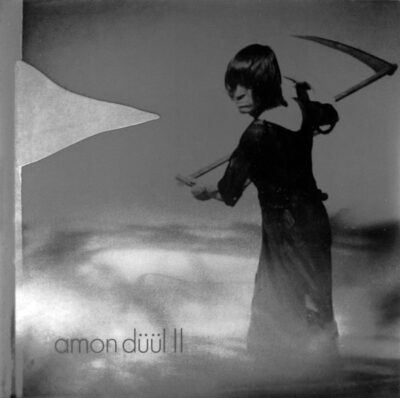 A1: SOAP SHOP ROCK – a) BURNING SISTER (3:41), b) HALLUZINATION GUILLOTINE (3:05), c) GULP A SONATA (0:45), d) FLESH-COLOURED ANTI-AIRCRAFT ALARM (5:53); A2: SHE CAME THROUGH THE CHIMNEY (3:56).
B1: ARCHANGELS THUNDERBIRD (3:30); B2: CERBERUS (4:18); B3: THE RETURN OF RUEBEZAHL (1:35); B4: EYE-SHAKING KING (6:37); B5: PALE GALLERY (2:11).
C: YETI (Improvisation) (18:00).
D1: YETI TALKS TO YOGI (Improvisation) (6:06); D2: SANDOZ IN THE RAIN (Improvisation) (8:55).
CATEGORY: ACID ROCK | DURATION: 69 MINUTES
Amon Düül was a radical German art commune which produced two experimental rock bands, Amon Düül and Amon Düül II, whose Yeti is the peak release by either faction. A double LP of guitar-driven acid rock and space rock, Yeti again shows how German music was in rapid ascendence – the album's title track, an 18-minute improvisational freak-out, makes a mockery of American "psychedelic" music from the same period such as The Grateful Dead's Live/Dead, for example, which sounds somewhat pitiful in comparison.
THIS BOOK IS DEDICATED TO THE MEMORY OF ROBERT YOUNG (1964-2014)
"ÆTERNUM VORTICE LACRIMARUM SOMNIAT"