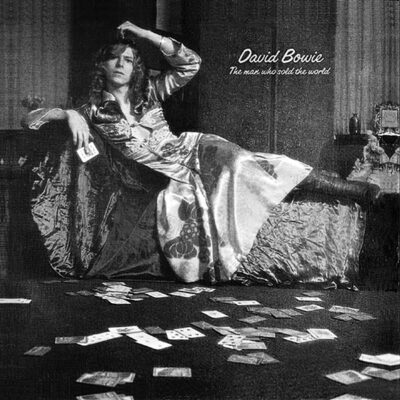 THE MAN WHO SOLD THE WORLD
A1: THE WIDTH OF A CIRCLE (8:07); A2: ALL THE MADMEN (5:38); A3: BLACK COUNTRY ROCK (3:33); A4: AFTER ALL (3:52).
B1: RUNNING GUN BLUES (3:12); B2: SAVIOUR MACHINE (4:27); B3: SHE SHOOK ME COLD (4:13); B4: THE MAN WHO SOLD THE WORLD (3:58); B5: THE SUPERMEN (3:39).
CATEGORY: POP-ROCK | DURATION: 41 MINUTES
After dabbling in folk and cabaret, English singer David Bowie made the wise transition into rock and roll by teaming up with electric guitarist Mick Ronson and bassist/producer Tony Visconti. The resulting album, The Man Who Sold The World, shows the emergence of a unique force in British popular music, with hard-edged claustrophobic rock married to words that purvey both enigma and dread. Ronson leads the attack, already showing why he remains one of the all-time greatest pop-rock guitarists. Bowie faltered with his next album, but he and Ronson would then enter their classic glam-rock phase and ignite the world in a 2-year blitz.
THIS BOOK IS DEDICATED TO THE MEMORY OF ROBERT YOUNG (1964-2014)
"ÆTERNUM VORTICE LACRIMARUM SOMNIAT"