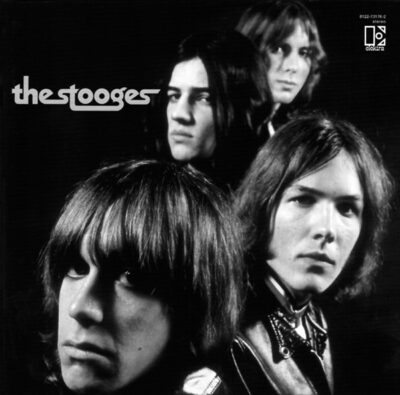 A1: 1969 (4:05); A2: I WANNA BE YOUR DOG (3:10); A3: WE WILL FALL (10:15).
B1: NO FUN (5:15); B2: REAL COOL TIME (2:29); B3: ANN (3:00); B4: NOT RIGHT (2:49); B5: LITTLE DOLL (3:21).
CATEGORY: GARAGE ROCK | DURATION: 34 MINUTES
Of all the cutting-edge rock and pop acts signed by the pioneering Elektra label during its late 60s heyday, The Stooges were by far the most sensational. Fronted by an extroverted singer named Iggy Pop and uniquely deranged guitarist Ron Asheton, this band from Ann Arbor, Michigan represent a quantum rupture in the evolution of rock and roll. The Stooges was one of several momentous albums to be produced by John Cale, whose influence is perhaps most clearly felt on "We Will Fall", a ritualistic 10-minute chant propelled by Cale's viola; the remaining tracks achieve a new and ultimate incarnation of the garage rock aesthetic, with Pop's sardonic declarations of boredom and casual depravity underpinned by Asheton's beautifully distorted, brilliantly deconstructed guitar lines. A work of raw and savage magnificence, The Stooges ranks in the highest echelons of modern music.
THIS BOOK IS DEDICATED TO THE MEMORY OF ROBERT YOUNG (1964-2014)
"ÆTERNUM VORTICE LACRIMARUM SOMNIAT"