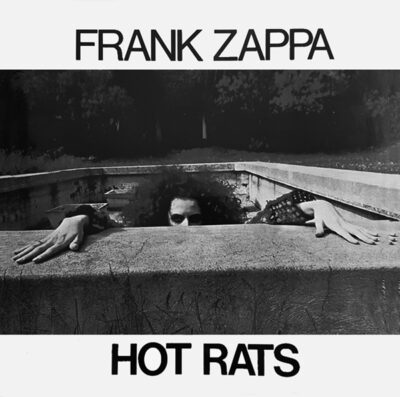 A1: PEACHES EN REGALIA (3:39); A2: WILLIE THE PIMP (9:16); A3: SON OF MR. GREEN GENES (9:00).
B1: LITTLE UMBRELLAS (3:04); B2: THE GUMBO VARIATIONS (16:56); B3: IT MUST BE A CAMEL (5:17).
CATEGORY: PROGRESSIVE ROCK | DURATION: 47 MINUTES
Frank Zappa laid the foundations of prog-rock with Hot Rats, an album often described as jazz-rock fusion but hardly ever that. Zappa created something truly monstrous with this album, which is all instrumental apart from some vocals by Captain Beefheart on "Willie The Pimp", a grinding electric violin stomp with eight minutes of guitar solos. Another album high-point is the 17-minute "The Gumbo Variations", which explores a freak-out acid-funk groove similar to those purveyed by Larry Coryell the same year, but all else is progressive rock in all but name. The music was recorded on 16-track tape equipment, an innovation at that time. Simultaneously grotesque and hilarious, Hot Rats is an album that cannot be overlooked.
THIS BOOK IS DEDICATED TO THE MEMORY OF ROBERT YOUNG (1964-2014)
"ÆTERNUM VORTICE LACRIMARUM SOMNIAT"