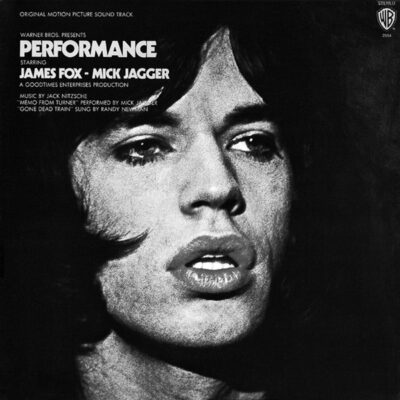 A1: GONE DEAD TRAIN (2:55); A2: PERFORMANCE (1:47); A3: GET AWAY (2:05); A4: POWIS SQUARE (2:23); A5: ROLLS ROYCE AND ACID (1:47); A6: DYED, DEAD, RED (2:32); A7: HARRY FLOWERS (4:00).
B1: MEMO FROM TURNER (4:02); B2: THE HASHISHIN (3:35); B3: WAKE UP, NIGGERS (2:43); B4: POOR WHITE HOUND DOG (2:45); B5: NATURAL MAGIC (1:37); B6: TURNER'S MURDER (4:15).
CATEGORY: AVANT-POP | DURATION: 37 MINUTES
One of the most audacious original film soundtracks of its time, for one of the most controversial and original films. Produced in Los Angeles by Jack Nitsche with a group of musicians and vocalists which included Lowell George, Ry Cooder, Buffy Sainte-Marie and Merry Clayton (also heard that year on the Rolling Stones anthem "Gimme Shelter"), Performance also features some of the first ever recorded Moog synthesiser music, courtesy of Bernie Krause. The Moog can also be seen in the film, and this doubtless led to Mick Jagger creating the industrial synth-loop which soundtracks Kenneth Anger's Invocation Of My Demon Brother, also completed in 1969. Jagger's main contribution to the Performance album is "Memo From Turner", a dark rocker also recorded by the Stones, but here featuring Ry Cooder and other players from Nitzsche's session ensemble. The only non-original track, "Wake Up, Niggers", can be skipped and is best heard in its proper context on The Last Poets (see chapter 64) As haunting and provocative as the film itself, Performance ultimately transcends its soundtrack origins and stands alone as a rare experimental triumph.
THIS BOOK IS DEDICATED TO THE MEMORY OF ROBERT YOUNG (1964-2014)
"ÆTERNUM VORTICE LACRIMARUM SOMNIAT"