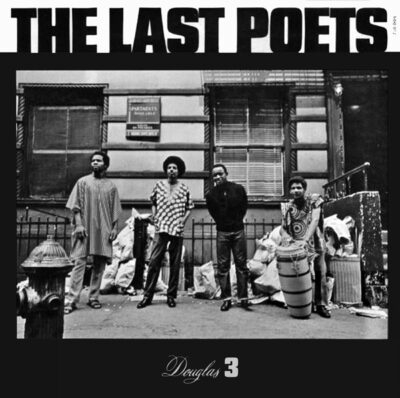 A1: RUN, NIGGER (1:10); A2: ON THE SUBWAY (1:31); A3: NIGGERS ARE SCARED OF REVOLUTION (5:14); A4: BLACK THIGHS (1:27); A5: GASHMAN (2:42); A6: WAKE UP, NIGGERS (2:45).
B1: NEW YORK, NEW YORK (3:32); B2: JONES COMIN' DOWN (2:48); B3: WHEN THE REVOLUTION COMES (1:44); B4: JUST BECAUSE (2:27); B5: BLACK WISH (1:30); B6: TWO LITTLE BOYS (1:08); B7: SURPRISES (2:06).
CATEGORY: RAP | DURATION: 31 MINUTES
This foundational rap recording was created with just voice and Afro-percussion, showcasing a radical, New York-centric "jazz poetry". Rooted in the nascent Black Power movement, the message of The Last Poets was a political call to revolution, aimed at "waking up" America's black population from a collective inertia induced by numbing doses of television, drugs and sex – subversive commodities cloaked in superficial allure but ultimately designed to suppress creativity and free expression. A seminal album in the annals of black music.
THIS BOOK IS DEDICATED TO THE MEMORY OF ROBERT YOUNG (1964-2014)
"ÆTERNUM VORTICE LACRIMARUM SOMNIAT"